On Monday 9th July we were able to enjoy a gastronomic experience with Caerm in the restaurant La Taulla with Julio Velandrino.
The four sisters who make up the third generation of La Pastora and their mother attended the event.
And you might be wondering what the reason for this meeting was.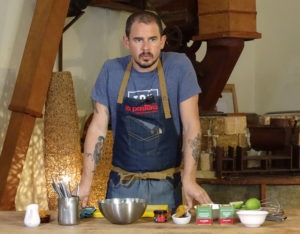 Thanks to the Caerm (Organic Farming Council of the Region of Murcia) we had the opportunity to show our products to the chef Julio Velandrino, with whom he has made the dishes that made up his menu throughout this week. In addition, the Caerm was in charge of carrying out the entire production process for recording a recipe with our products prepared by Julio Velandrino in the restaurant La Taulla.
We cannot show the content of this recipe yet, but we can assure you that you will want to try it as soon as you see it.
The gastronomic experience that you can live and feel in the restaurant La Taulla is exceptional, not only for its cuisine but for the whole that forms the tradition of the place where it is located, along with the most typical foods of our region and also in season.